Artist Profile
Click here for the text of View Camera Magazine's profile of George Thomas Mendel.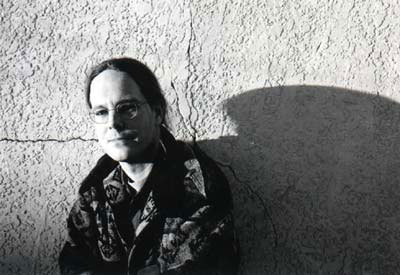 Pittsburgh native George Mendel, an award winning photographer with over twenty years' experience, consistently elevates photographic documentation to fine art, with an intensity and nearly life-long passion for his craft.
Equally agile in commercial/ architectural photography, portraiture and wedding events, George artfully captures the essential moment in time with his keen eye for beauty, light and composition.
His proven skills redefine the art of Wedding photography, transcending the ordinary and providing his clients with memorable images that beautifully and lovingly convey all the joy, excitement and emotion of their wedding day, with the resulting album a cherished heirloom.
His photographs of children have a rare quality that exquisitely showcase not just the superficial beauty inherant in every child, but the essence, charm and spirit of the individual. His portraits become family keepsakes, not merely snapshots but works of art.
In addition, George is honored to be able to be involved with various charitable projects, donating his time and talent to help support those who tirelessly give of themselves improving the quality of life of those in the community with special needs. The Mon Valley Supports portfolio is a particularly moving example of how his photography not only helped improve their fundraising capabilities, but was used to draw attention to the heroic efforts of this organization of caregivers for the mentally and physically challenged.
-- Bayn Johnson --
Publications
Death by Renaissance by Paola Corso & George Thomas Mendel, an in-depth, personal look at the rise and fall of a small mill town in Pennsylvania, through the poetry of Ms. Corso and the lens of Mr. Mendel. (Bottom Dog Press 2004)
Beautiful Things, a celebration of 250 pieces of art and sculpture as chosen by Mr Michael Monroe, former curator-in-charge of the Smithsonian's Renwick Gallery and curator of the White House collection of American Craft. The book features an architectural photograph by George Thomas Mendel. (North Light Books 2000)
George's images have appeared in The Pittsburgh Metropolitan, Industrial Photography, Pittsburgh Post-Gazette, American Salon, Pittsburgh Magazine, Air Racing Illustrated, Air Show International, Harley Woman, Dermascope Magazine, the Pittsburgh Pirates official yearbook, and other newspapers and magazines.
Awards
Third Place cash award, annual PERSAD Art for Aids juried art auction held at the Carnegie Museum of Art, featuring national art submissions of all genres, 2005

Honorable Mention, Capture the Spirit / Day in the Life of Saint Vincent College, 1990

Third Place, Industrial Photography Annual, for photographic excellence. "Photo-elastic stress analysis of C-ring geometry," 1988

Best of Show, Day in the Life of Saint Vincent College, 1988
Public Showings
2005: One man show at Moxie DaDa (Pittsburgh, PA), featuring Heartland Harvest, works from a black and white photojournalism project on migrant harvesting

2004: Group show at the Silver Eye Center for Photography (Pittsburgh, PA), featuring the Death by Renassiance documentary project; also featuring photojournalism by Ester Bubley & Leo Mendonca

2001: One man show at Borders Books (Upper Saint Clair, PA), featuring selected black and white photojournalism images from A Caring Community and Team in Training portfolios

1999: One man show at Mt Lebanon Library (Mt Lebanon, PA), featuring black and white technical architectural photos and selected images from the Mon Valley Supports photojournalism project

1997: Group show at Artisans Gallery (Pittsburgh, PA), featuring technical architectural photography; also featured architectural illustrations by Susan Castriota and monumental ceramic vessels by Kathy Sherman

1996: Two man show at Zenith Gallery (Pittsburgh, PA), featuring black and white representations of Mr. McGovern's dark side; also featured spoken word by Michael McGovern and fine-metal arts by Donovan Widmer

1994: Group show at Abney Galleries (New York, NY), featuring various selected black and white and hand-oiled photographs; also featured mixed media fine art by Ricardo Castaneda, Barbara Dettler, Hank Kearsley, Tom Rella
Professional Organizations
Academy of Science and Art of Pittsburgh (Photographic section)
Silver Eye Center for Photography
Selected Clients
Penn State University, Center for Advanced Materials
Pittsburgh Paint & Glass (PPG), Biomedical Division
Pittsburgh Press, Advertising / Promotion Department
Frank B. Fuhrer Wholesale Co., Budweiser Advertsing
Variety Childrens Charity
Public Relations Society of America